Fairfield High School
Classes of 1968 - 1971
In Memory
Mr. Earl Olson (Industrial Arts)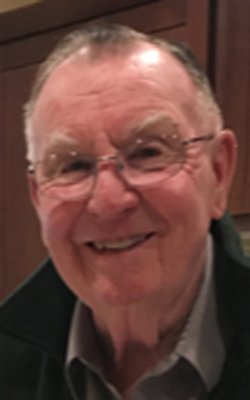 Earl D. Olson
Aug. 26, 1934 — Sept. 11, 2018
Earl Dean Olson passed away peacefully at his home on Sept. 11, 2018. He was born on Aug. 26, 1934, in San Rafael, California, to his parents, Alfred and Clara Olson.
In July of 1958, he married the true love of his life, Joyce Birse. They joyfully celebrated their 60th wedding anniversary together this year. He treasured his two daughters and sons-in-law, Laurie and Perry Parrish and Nancy and John Ford; and loving grandchildren, Alison and Andrew Ford and Katie and Emma Parrish.
Earl grew up in San Rafael and graduated from San Rafael High School in 1952. After high school he attended the College of Marin and later attended San Francisco State University where he received his BA degree in 1957 and a life diploma in Industrial Arts Education in 1964. He continued his education, completing his Masters degree in 1965. He also served in the California National Guard from 1957-1963.
Earl began his teaching career at Armijo High School in Fairfield, California, in 1958. When Fairfield High School opened in 1965, he was among the first faculty and was appointed Department Chair to the Industrial Arts Department, where he taught until he retired from teaching in 1988. He was passionate about his teaching career. The love for his students, impacted many of their lives. Together with his department colleagues, who became lifelong friends, many innovative programs and ideas in the area of Industrial Arts Education were implemented, not only in Fairfield, but also on a state level.
After his retirement he worked full time for the City of Fairfield as a building inspector. He was proud to meet many of his former students on the job sites. They always greeted him with much respect as they would never refer to him as Earl. It was always "Hello Mr. Olson."
Earl loved life. He lived every moment to it's fullest. He loved people and was always the first one there to lend a helping hand and did everything he could to share his happiness. He was Mickey Mouse's biggest fan and was determined that he was the last of the Vikings.
He was in his element amongst the glory of nature. He enjoyed fishing and spending time at his Stuga (cabin) that he designed and built. He always had projects in mind and worked tirelessly until they were completed. He was an artist with wood and building with every detail meticulously thought out. One of his mottos was to "Always do your best and a little bit more."
He is survived by his sister, Susie McFaddin; her husband, Ned and daughter, Kellie; his best friend of 66 years, Fred Weier; many loving nieces, nephews and cherished friends.
He is preceded in death by his parents; brothers, Alfred, Paul, Richard and James; son-in-law, Perry Parrish.
Friends and family are invited to a Celebration of life from 7 to 9:30 p.m., Saturday, Sept. 22, 2018, at Fairfield Civic Center-Lakeside Banquet Room, 1000 Kentucky St., Fairfield, California.
In lieu of flowers, donations can be made in Earl Olson's name to: Kaiser Foundation Hospital Hospice Department, 975 Serano Dr., Vallejo, CA 94589, or Salvation Army KROC Center, 278 Sunset Ave., Suisun City, CA 94585.